Hazardous Materials: WHMIS 1998 vs WHMIS 2015
Hazardous Materials:
WHMIS 1998 vs WHMIS 2015
WHMIS 1998 incorporates the elements of the Globally Harmonised System, resulting in WHMIS 2015. The transition period ends December 1st 2018; will you be at the start line on time? This blog will provide you with information on the main changes that have been made in WHMIS 2015. In addition to the update of your labels and safety data sheets, formerly called material safety data sheets, employees that can be in contact with hazardous materials must receive WHMIS 2015 training.
The transition period from WHMIS 1988 to WHMIS 2015
Suppliers and importers must apply WHMIS 2015 since June 1st 2018
Distributors must apply WHMIS 2015 since September 1st 2015
Employers must have 100% integrated WHMIS 2015 into their workplace, including updating of their mandatory training program.
Here is a summary of changes:
Supplier's label
Label must include:

Product Identifier
Supplier Identifier
Hazard Pictograms
Signal Word
Hazard Statement
Precautionary Statements

The hatched border is no longer required
Reference to the Safety Data Sheet is no longer required
Safety Data Sheet
The Material Safety Data Sheet contains 9 sections, whereas the Safety Data Sheet for WHMIS 2015 must contain 16.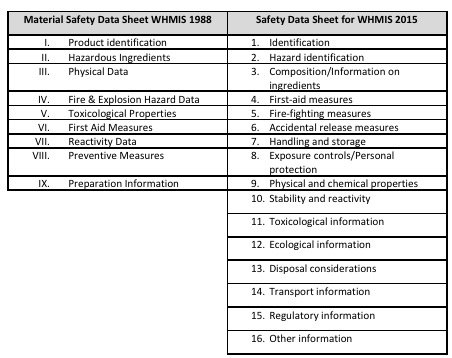 Presence of pictograms is now mandatory
It is no longer required that Safety Data Sheets be updated every 3 years. They need only be replaced when a modification has been made.
Pictograms
Many changes were made to the pictograms

The round shape is now a diamond shape
The drawings have also been modified
WHMIS 1988 had 8 pictograms whereas WHMIS 2015 now has 10
WHMIS 1988
WHMIS 2015
Our team of experts in Occupational Health and Safety can help you and help guide you through these big changes in your business. Don't hesitate to contact us!
Subscribe to our newsletter
Please register to receive the latest news, updates and training available.
Do you need our expertise for an OSH project?
Let's start together by evaluating your project with a free 30-minute telephone consultation.
Intervention Prévention Inc.
Intervention Prévention concentrates its operations in the field of work safety, offering specialized services following Standards CSA Z462 – Workplace Electrical Safety, CSA Z460 – Control of Hazardous Energy: Lock-out and Other Methods, and CSA Z432 – Safeguarding of Machinery.
226-3275 rue de l'Industrie
Saint-Mathieu-de-Beloeil (Québec)
J3G 0M8