Electrical safety: Safe disconnecting maneuver
Electrical safety: Safe disconnecting maneuver
Questions about anti-shock and anti-arc protective equipment during a low voltage disconnecting maneuver (less than 750V) are frequently asked. 2015 version of the CSA Z 462 standard (Workplace electrical safety) that is widely called (arc flash) treats, actually, several electricals hazards, not only the arc flash hazard.
Arc flash hazard definition according to CSA Z 462 standard
The definition states that if a person is interacting with the equipment in a manner that could cause an
electric arc. Under normal operating conditions, enclosed energized equipment that has been properly installed and maintained is not likely to pose an arc flash hazard. Thus, if the equipment is inherently safe (enclosed, properly installed and maintained), no protection is required according to the standard. This definition is based on the 2nd point of the table 4A where a low voltage disconnecting maneuver is treated.
The table 4A of the CSA Z462-15 standard
The table 4A of the standard treats the question of PPE in electrical safety context, according to the task and the equipment condition. The table describes the safe disconnecting maneuver steps as follow:
Shutdown the equipment
Check the equipment to ensure that is properly installed and maintained, and the bolt are screwed, covers and cases are in place and absence of defect evidence (corrosion, humidity, etc.)
Open the disconnecting device
The figure realized by Intervention Prevention Inc. shows a good example of how to perform a safe disconnecting maneuver.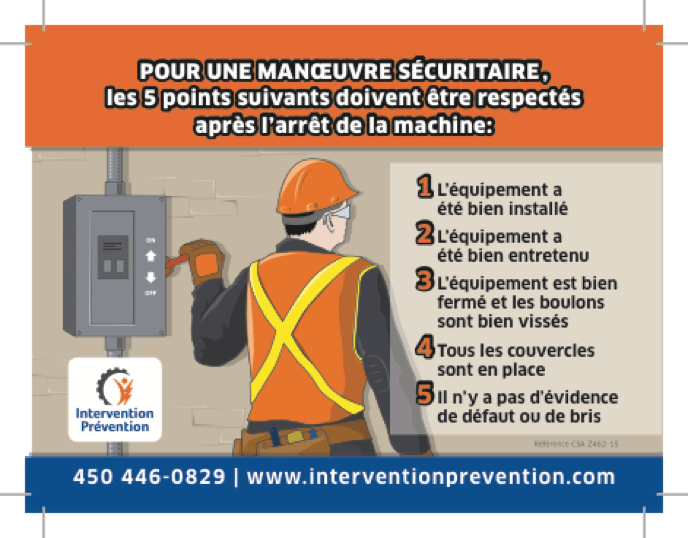 Likely modification in the 2018 CSA Z462 standard version
In the next version of the CSA Z462 standard, a sixth point will be probably added. That is to say following the manufacturer instruction in particular, when the equipment is relatively complex whose the manipulation could lead to a hazardous situation such as transfer switch, multi-source, etc.
Subscribe to our newsletter
Please register to receive the latest news, updates and training available.
Do you need our expertise for an OSH project?
Let's start together by evaluating your project with a free 30-minute telephone consultation.
Intervention Prévention Inc.
Intervention Prévention concentrates its operations in the field of work safety, offering specialized services following Standards CSA Z462 – Workplace Electrical Safety, CSA Z460 – Control of Hazardous Energy: Lock-out and Other Methods, and CSA Z432 – Safeguarding of Machinery.
226-3275 rue de l'Industrie
Saint-Mathieu-de-Beloeil (Québec)
J3G 0M8